Former Finance Minister Wolfgang Schaeuble is elected president of Germany's Bundestag
Comments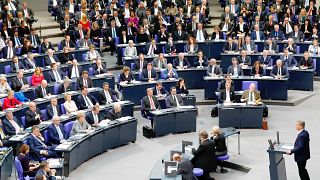 Former German Finance Minister Wolfgang Schaeuble has been elected president of Germany's Bundestag or lower house of parliament, on Tuesday at its first session after Sept. 24 elections.
Schaeuble, a member of Chancellor Angela Merkel's conservatives, agreed last month to step aside as finance minister, clearing the way for another party to take the job as part of tricky negotiations to forge a new coalition government.
Schaeuble, 75, is known for his hardline insistence on a balanced budget and his leadership during the euro zone crisis, but he faces new challenges in leading the Bundestag, which will include a far-right party – the Alternative for Germany (AfD) – for the first time in decades.