Catalan leader could face Spanish Senate
Comments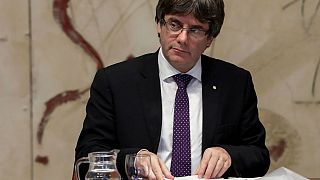 Catalan President Carles Puigdemont is considering appearing before the Spanish Senate to explain his position. If he does it will be a significant opportunity for him to present his arguments for independence.
On Friday the Senate in Madrid is expected to vote on implementing direct rule.
Either way Catalan lawmakers are to hold their own parliamentary debate before then.
"We have asked for a specific plenary session on Thursday to respond to the aggression made by the decision of the cabinet and its application of article 155 of the constitution," said a spokesperson for Junts Pel Si coalition, Lluis Corominas.
Leaders of Catalonia's secessionist campaign say the Oct-1 referendum in which 43 percent of the electorate voted, has given them a mandate to claim independence from Spain.
Puigdemont's suspended declaration was he said in order to allow for talks which Madrid rejected.
Spain's Deputy Prime Minister Soraya Saenz de Santamaria, said: "The Catalan Government has a chance to come to the senate and make the arguments that it deems appropriate and so we will hear everything President Puigdemont) has to say and I believe that at this moment it is best to say things openly and in public."
Spain's Senate will vote on triggering Article 155 of the constitution which will allow Madrid to intervene in the running of the region.
Catalonia says its confident its officials including the police will not comply raising fears of possible unrest.
Catalonia warns of civil disobedience as Madrid readies direct rule https://t.co/Ncd7IYW5NXpic.twitter.com/7xxU6kNsvE

— Reuters Top News (@Reuters) October 23, 2017