Rajoy says he will sack Catalan government, call regional elections
Comments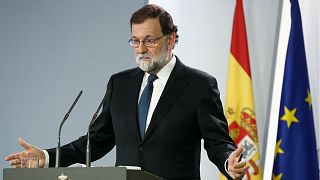 Spanish Prime Minister Mariano Rajoy on Saturday (October 21) said he would curb the powers of Catalonia's parliament, sack its government and call a regional election within six months in a bid to stop efforts by the autonomous region to break away from Spain.
Rajoy said his government had taken the unprecedented decision to restore the law, make sure regional institutions were neutral, and to guarantee public services and economic activity as well as preserve the civil rights of all citizens.
The measures must now be approved by Spain's upper house, the Senate, where a vote is scheduled for October 27.
Rajoy's speech came after Spain's central government met to discuss establishing control of the wealthy northeastern region following the referendum on secession three weeks ago.
Madrid says suspending some of Catalonia's autonomy – a move that could be applied under Article 155 of the Spanish constitution – would guarantee "freedom, security and plurality" in the face of "rebellious disobedience."
Rajoy said the goal of such measures, "is to go back to legality because it cannot be a portion of a country where law is not applied, where law doesn't exist. And at the same time we need to go back to institutional normality."
The country's head of state King Felipe said he supports the central government's stance, and affirmed the unity of Spain. He says "Catalonia is and will remain an essential part."
"Spain needs to face up to an unacceptable secession attempt on its national territory, which it will resolve using legitimate democratic institutions, respecting our constitution, adhering to the values and principles of the parliamentary democracy in which we have lived for 39 years," he added.
Catalonia's regional president Carles Puigdemont has refused to renounce independence, citing an overwhelming vote in favour of secession.
Puigdemont has said the result of the referendum is binding, while Spanish courts have ruled it unconstitutional.
Article 155: The 'Nuclear Option' That Could Let Spain Seize Catalonia https://t.co/F593R5rMiBpic.twitter.com/P0xInHvT9E

— Dan Campbell (@chunkysirloin) October 21, 2017
Madrid poised to activate emergency rule in Catalonia https://t.co/uBsxsP5u6mpic.twitter.com/27Spe2nZBo

— euronews (@euronews) October 21, 2017
With Reuters