Ines Rau is the first transgender model to feature on the men's magazine's centre pages.
Playboy has put a transgender model on its centre page for the first time in the men's magazine's 64-year history.
Ines Rau, from France, features in the November/December issue, which pays tribute to the monthly's founder, Hugh Hefner, who died last month aged 91.
It has a picture of a 39-year-old Hefner on its front – the first time a man has featured alone on the publication's cover.
Rau said Hefner had chosen her to be the magazine's first transgender playmate before he died just days before the latest issue went to press.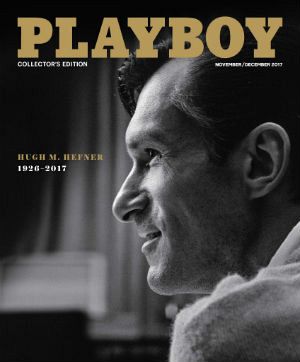 "Every woman's beauty deserves to be celebrated," Rau, 26, told Reuters. "No one deserves to be a woman more than those [trans women] who routinely suffer abuse and are treated like they're less than nothing.
"The messages of encouragement I've received from people have been amazing, although I'm still told by some that I'm ugly and should never be allowed in Playboy."
The latest Playboy issue comes as transgender models are becoming increasingly visible in fashion brands and media.
In March the French edition of Vogue featured a transgender model for the first time on its cover, as did Marie Claire Spain in 2016.
In August French cosmetics giant L'Oreal hired is first transgender model, Munroe Bergdorf, to front an advertising campaign celebrating diversity. It sacked her days later after she described all white people as racist on Facebook.
Rights groups celebrated the feature as a positive step bringing LGBT rights into the spotlight.
"Trans women are women. That is not up for debate, by media commentators or anyone else. We applaud Ines for continuing to speak out on the rights of trans people everywhere," said a spokesman for LGBT charity Stonewall.
The decision to feature Rau sparked debate on social media, with one man commenting on the magazine's Facebook page that "this was the last straw, sorry but I like my women real, not 500 surgeries later".
"There will always be trolls," said Rau. "But if I can help others to love themselves then it's worth it."