How Playboy founder Hugh Hefner changed the western world
Comments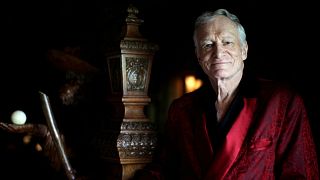 When Hugh Hefner published the first Playboy magazine from his kitchen in 1953, no one could have predicted the cultural juggernaut it would become.
At that time, a magazine featuring nude photographs of women pushed the boundaries of middle class American society.
Hefner, then just 27, didn't put a date on the first edition of Playboy because he was so unsure that it would make it to a second.
But the magazine quickly became a hit.
The inaugural issue, featuring old nude photographs of Marilyn Monroe, sold more than 50,000 copies, tapping into a market of men looking for more than fishing and hunting periodicals.
It soon became the biggest men's magazine in the world, selling seven million copies a month at the height of its success.
Hefner said he started the magazine in part because he was "raised in a lot of repression" in a strict Methodist household.
"The major civilizing force in the world is not religion," he wrote in the Playboy manifesto, "it is sex."
Beyond the risque photos, the magazine often included serious and provocative articles.
In its second year, Hefner published a short story by science fiction author Charles Beaumont, which depicted a future society where homosexuality was the norm and heterosexuality was outlawed.
The piece was met with a slew of complaints to which Hefner responded defiantly.
"If it was wrong to persecute heterosexuals in a homosexual society, then the reverse was wrong, too," he wrote.
The publication also featured interviews with civil rights figures like Malcolm X, and Hefner regularly invited black guests to televised parties.
But while many celebrate the magazine and its publisher as a leading force in the fight for sexual liberation, civil rights and free speech, opponents argue that they did little more than reduce women to sexual objects.
Hefner and his Playboy empire have been criticized by feminist groups, employees and even former girlfriends.
In June 1975, so-called Playboy bunnies working for clubs owned by the brand protested rules that they said interfered with their social lives, demanding more independence.
Decades later, when a new club was set to open in London, hundreds of feminist protesters sought to block the move.
"For two decades the Playboy empire has pornified our society. It makes everything from hardcore porn films to children's duvet covers, all carrying the Playboy brand, and has encouraged male clientele to treat women as sexual objects for Playboy's vast financial gain," one protester told the Guardian newspaper, echoing criticisms often levelled at the brand.
In an interview later in life, Hefner declared that "in terms of pop culture and sexual attitudes, we do live in a Playboy world now."
While few would deny the cultural shift that Playboy represented, debate has continued after his death over whether it was for better or worse.
Hugh Hefner is rightly remembered for rebelling against right wing moralism before most people, but please don't forget he treated women like garbage to do it.

— Jessica Valenti (@JessicaValenti) September 28, 2017
Is there any doubt that the illusions Hugh Hefner peddled for profit added greatly to the unhappiness of the world?

— Dinesh D'Souza (@DineshDSouza) September 28, 2017
Hugh Hefner was a GIANT in publishing, journalism, free speech & civil rights. He was a true original, and he was my friend. Rest well Hef. pic.twitter.com/bJ1wxoK4gR

— Larry King (@kingsthings) September 28, 2017