French MEPs shower while clothed to demonstrate plight of Calais migrants
Comments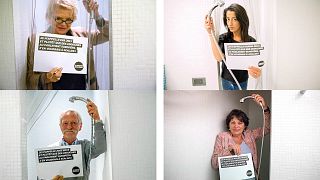 Members of the European Parliament have shared photos of themselves showering fully clothed to urge the French government to improve sanitation facilities for immigrants at Calais.
Adding their weight to a campaign launched by Catholic Aid – Caritas France, members of the Europe Ecology – The Greens Party posted photos holding a message stating: "Rather than showers at the European Parliament, I would rather see them in Calais."
In their Facebook post, the MEPs wrote that they decided to join the campaign after the United Nations called on France to implement long-term measures that would bring drinkable water and bathing facilities to migrant camps in northern France.
In a Facebook post accompanying the images, the party pointed out that 10 portable toilets and 10 taps are the only facilities available to 700 immigrants housed in Calais.
The MEPs pointed out that local authorities refused to implement the necessary measures over the summer.
"We've chosen a humorous way to alert people to the problem," MEP Yannick Jadot told Le Parisien.
"It's an original idea to raise consciousness about the issue," added his colleague Karima Delli.