Catalonia remains on collision course with Madrid over independence
Comments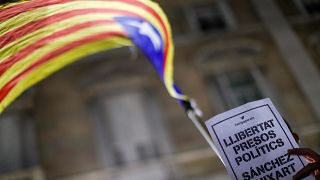 Catalonia remains on course for a political collision later this week with the Spanish government.
The region's leaders are refusing to bow to Madrid's demand that they renounce a symbolic declaration of independence by Thursday, or face the imposition of direct rule.
The Catalan National Assembly (ANC) also staged a walkout over the jailing on Monday night of the heads of Catalonia's two main separatist groups for alleged sedition. ANC leader Jordi Sanchez and Omnium chief Jordi Cuixart are accused by prosecutors of helping orchestrate pro-independence demonstrations last month that trapped national police inside a Barcelona building while their vehicles were destroyed.
That same incident also led to Catalonia's police chief, Josep Lluis Trapero, being investigated for sedition. He is accused of failing to order his force to rescue them from the building. He has not been detained but the High Court banned him from leaving Spain and seized his passport.
The imprisonment of Sanchez and Cuixart has drawn a mixed response in the Barcelona.
"I think it's really bad because it's a form of repression and an enormous censorship of freedom of expression and their imprisonment is political which should not be allowed," said 21-year-old Elisabeth Ficapal.
But Barcelona pensioner Adrian disagreed: "All this politics that is happening now was caused by them, they created it. Therefore if they created it, they should know what to do. I'm not in a position to express any opinion, it was them who made the mess and they have to fix it."
Spain jails Catalonia's civil society leaders for organising peaceful demonstrations. Sadly, we have political prisoners again

— Carles Puigdemont (@KRLS) October 16, 2017
Spain's Justice Minister Rafael Catala says the jailing of the Catalan National Assembly leader and Omnium was a judicial, not a political, decision.
"We can talk of politicians in prison but not political prisoners," he said. "These are not political prisoners because the prison ruling was due to a (suspected) crime."
The Catalan government has accused Madrid of again taking political prisoners; an allusion to the Franco dictatorship, when Catalan culture and language were
systematically suppressed.