Celebration in Gaza and West Bank after Hamas and Fatah sign reconciliation deal
Comments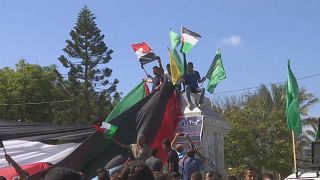 There have been celebratory scenes in both Gaza and the West Bank after Hamas and Fatah
signed a reconciliation deal.
The initial agreement aims to end a decade-long rift between the two rival Palestinian factions.
It will see administrative control of Gaza handed over to a Fatah-backed unity government.
One Gazan resident said: "I hope there will be implementation on the ground for the issues agreed upon, because we are truly tired by the division and poverty. We have been suffering for 11 years."
In addition to administering Gaza, the agreement should see the West Bank-based Palestinian Authority take back control of the Rafah border crossing between Gaza and Egypt.
The unity deal, which was signed in Cairo on Thursday, has been described by both Palestinian factions as a major breakthrough.
But responding to the development, the Israeli government said any reconciliation must see Hamas give up its arms and recognise Israel, while the country's Prime Minister Benjamin Netanyahu took to Twitter claiming the deal would hinder not help peace in the region.
There is nothing we want more than peace with all our neighbors.
Reconciliation between Fatah and Hamas makes peace much harder to achieve.

— Benjamin Netanyahu (@netanyahu) October 12, 2017