ISIL suicide bombers kill two police officers in Damascus
Comments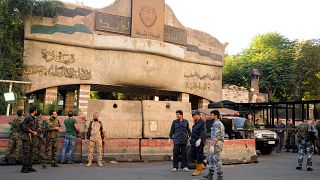 A triple suicide bomb attack near a police head quaters in central Damascus has killed two people and injured six others . It's the second bombing this month on the Syrian capital, claimed by self-styled Islamic State or ISIL which experts say is a response to its multiple defeats elsewhere.
US-backed forces are said to be on the verge of ousting militants from the city of Raqqa – one of their last strong holds.
Kurdish troops were are the forefront of the offensive which began in early June. Up to 400 militants are believed to remain in a small part of the city, among them foreign fighters who are expected to "fight to the end."
As the campaign to drive out Islamic State from westen Syria, eastwards to the Iraqi border continues, thousands of civilians are being displaced.
Shelling and clashes have swelled refugee camps in Deir al-Zor province downriver from Raqqa.
At one south of al-Hasaka organisers said over crowding and lack of services and tents was making life intolerable for around 27,000 people.