Eminem slams Trump in freestyle rap
Comments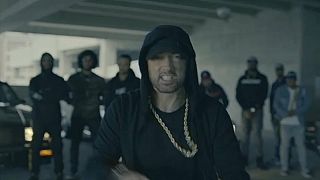 Rapper Eminem laid into US President Donald Trump yesterday (October 10) in four-minute rap calling him everything from a "racist grandpa" to "a kamikaze that'll probably cause a nuclear holocaust".
The famously-outspoken musician, real name Marshall Mathers, performed the freestyle rap in a video that played out at the BET Hip-Hop Awards.
Appearing in a Detroit car park and surrounded by a crowd with crossed arms, the Oscar winner made reference to Trump's twitter "battle" with NFL players, saying it was a distraction from the issues of aid in Puerto Rico after Hurricane Maria and US gun laws.
Eminem ended by making a call to his supporters: "Any fan of mine who's a supporter of his, I'm drawing in the sand a line, you're either for or against, and if you can't decide who you like more and you're split on who you should stand beside, I'll do it for it for you with this. f*** you."
Trump was yet to comment.