Catalonia police: who do we serve?
Comments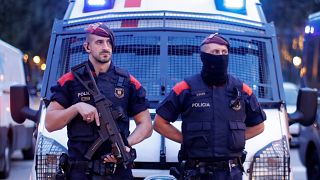 View the first part of this storyhere
Mossos spokesman Inspector Albert Oliva denied the allegations that the Catalan regional officers have been working under over-politicized circumstances.
The criticism was made by a Mossos officer whose identity has been withheld for reasons of safety.
Inspector Oliva pointed out that officers have an internal mechanisms to resolve issues.
"In order to criticize or praise police performance, it is necessary to have all the elements on the table. We can not give opinions based solely on personal positions. In any case, there are internal mechanisms within our organization that exist so that officers can express their opinions or criticisms, if any, through the chain of command."
The action of the Catalan police was strongly criticized by the national police and relations between the two police services have deteriorated.
"The Mossos did not fulfill their mandate as police," Ramón Cosío, a police union spokesman told Euronews. "There has never been an identical situation in a Western country: a police force that does not obey the orders of a judge or that disobeys the instructions of the interior ministry.
"The police do not work for any political party, or political interests, or any ideology. We are here to work for public safety, that is our function. When the Mossos d'Esquadra return to this role, with which society counts, the tension will be lowered."