Cava producers fear Catalonia independence
Comments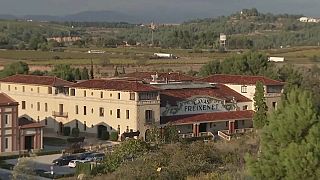 Spain's Cava wine region has become an emblem of Catalonia.
The sparkling wine is one of the region's strongest exports, but two household names – Freixenet and Codorniu – are considering moving out their official base as tensions grow over the push to declare independence.
They are concerned they may no longer be covered by Spanish and EU laws and rights if Catalonia manages to secede and they remain.
The people of Sant Sadurni d'Anoia province voted overwhelmingly in favour of independence, but some admit to feeling nervous about the increased political and economic uncertainty.
"I am very very worried because if the businesses leave the workers will go," said one resident.
Another admitted she was more worried about the bank's leaving rather than companies like Freixenet and Codorniu.
No country has openly said it would support secession and the EU says an independent Catalonia would be kicked out of the bloc and forced to stop using the common euro currency.