US-backed forces begin final Raqqa assault
Comments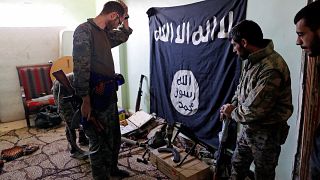 A final assault on so-called Islamic State's last line of defence in its former Syrian capital Raqqa has begun.
The loss of the remaining streets and buildings to US-backed forces would mark a major milestone in the battle to destroy the jihadist group.
Islamic State fighters are now hemmed into a small area in the city centre while it's unclear how many people are left in the city.
"We don't have the exact number [of people who were killed by Islamic State because we don't have any intelligence," said Zardasht Shingali, commander with the Sinjar Resistance Unit. "But there are only a few left. It's clear from their attacks."
Over the past few days, about 100 civilians have managed to escape from the area in the city centre. Those left say they haven't been able to leave their homes for more than five months.
Those who try to leave have their possessions carefully checked over fears of hidden suicide bombers.
The US-backed forces began the campaign to isolate Raqqa early this year.
The fighting has left much of Raqqa in ruins with intense air strikes and street-to-street battles devastating buildings.