UN fears further exodus of Rohingya refugees from Myanmar into Bangladesh
Comments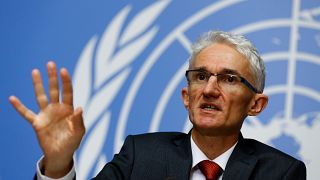 The United Nations says it is braced for a further exodus of Muslim Rohingya refugees from Myanmar into Bangladesh.
Over half a million Rohingya have already arrived from Myanmar's western state of Rakhine in a flow of people that began after Myanmar security forces responded to Rohingya militant attacks with a brutal crackdown.
The United Nations Under Secretary General for Humanitarian Affairs, Mark Lowcock, has criticised the lack of access the UN has to the Rakhine region.
"We repeat our call to the authorities in Myanmar to put in place the arrangements that make it possible for humanitarians, not just U.N., but across the piste, to do their normal work," he said.
An estimated two thousand Rohingya are arriving in Bangladesh every day. And refugees tell of acts of violence and killings by the Myanmar military. One man described how the security forces brutalised members of his family attacking his mother and breaking her arms with a rifle. His brother and wife were also killed.
Aid agences have warned of a malnutrition crisis with hundreds of thousand of people in urgent need of food and say there is also the risk of a cholera outbreak with disease spreading in the rain-drenched camps.