Rohingya crisis: new images emerge of villages being torched
Comments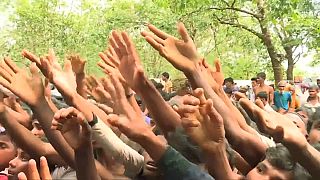 New images from north western Myanmar appear to show several more Rohingya settlements have been completely burnt to the ground.
Footage received by the Reuters news agency over the weekend showed the aftermath following fires in at least eight villages where the Muslim minority is said to have been sheltering from violence.
It is impossible to say how the blazes started – independent monitors are barred from Myanmar, but nearly 300,000 Rohingya refugees have fled Rakhine state to neighbouring Bangladesh since the end of August.
The Rohingya say they were forced to flee after security forces in Myanmar launched a brutal crackdown in response to attacks on police posts by the Arakan Rohingya Salvation Army.
On Sunday the armed group began a month-long unilateral ceasefire in their fight against the Myanmar military in order to allow aid groups to address the worsening humanitarian crisis.
In a statement they called on Myanmar's military to also temporarily lay down arms.
The UN has said there is a desperate need for food, water and health services for the tens of thousands of Rohingya stuck in Bangladesh.