Amnesty accuses Myanmar of Rohingya "ethnic cleansing"
Comments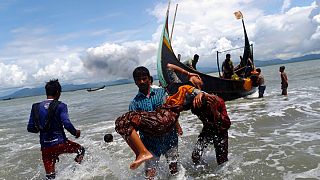 Amnesty International has released satellite images which it claims show an "orchestrated campaign" to burn Rohingya villages in western Myanmar
The human rights group says it has detected up to 80 large fires in the western Rakhine state since August 25 and has been able to corroborate the burning by analysing photographs taken from across the Naf River in Bangladesh, showing huge pillars of smoke rising inside Myanmar.
"There is ethnic cleansing happening of the Rohingya people in Rakhine State," said David Griffiths of Amnesty International. " We have used satellite imagery, fire detection data, photos, eyewitness-reports from those who fled the violence to determine a massive scorched earth campaign right across the state driving the Rohingya population out of Rakhine State," he added.
CRISIS: What's going on in #Myanmar is planned, deliberate & targeted. This is ethnic cleansing of #Rohingya: https://t.co/qoDtjoZC7epic.twitter.com/i55XDkeO7L

— AmnestyInternational (@amnesty) September 14, 2017
Myanmar has blamed the fires on insurgents and say some 30,000 non-Muslim villagers have also been displaced.
Bangladesh&Myanmar border.Everyday huge Rohingyas fleeing into BD due to genocide by Military JamilaHanan</a> <a href="https://twitter.com/antonioguterres">antonioguterresJustinTrudeau</a> <a href="https://t.co/Z9Pju11tr0">pic.twitter.com/Z9Pju11tr0</a></p>— Md.sadik khan (Mdsadikkhan1) September 14, 2017
The United Nations Secretary General Antonio Guterres has also condemned Myanmar's military offensive as "ethnic cleansing" and made a fresh appeal for aid, saying the influx of 400,000 people into Bangladesh is placing a huge strain on authorities
The exodus was sparked by a series of Rohingya rebel attacks last month on security posts and an army camp in which around a dozen people were killed.
Have a question for #UNSGAntonioGuterres</a>? Now is your chance to ask! Join on FB on 17 Sept at 5 pm EDT: <a href="https://t.co/HVMjcaFu7P">https://t.co/HVMjcaFu7P</a> <a href="https://twitter.com/hashtag/UNGA?src=hash">#UNGA</a> <a href="https://t.co/kwMq2tm5Hl">pic.twitter.com/kwMq2tm5Hl</a></p>— UN DESA (UNDESA) September 14, 2017