New Spanish law could damage Catalonia's finances
Comments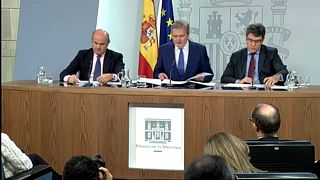 The Spanish government has stepped up economic pressure on the Catalan government by passing a law making it easier for companies to move their operations around the country dealing a potential blow to the region's finances.
Spanish Economy Minister Luis de Guindos says the political turmoil is damaging Catalonia.
"It is very sad what we are seeing, the departure of very important companies in Catalonia," he explained. "This is not the companies' fault. This is the fault of an irresponsible policy. This government will always do the best to favour everything that allows economic prosperity in Catalonia, which allows companies to grow and to generate employment."
Jordi Sanchez, head of Catalonia's National Assembly, appeared before a judge on Friday as part of a sedition investigation. As he left the court he called for a political solution to the crisis and condemned the new law.
"It's certainly a strategy of fear, an attitude that the Spanish government has authorised to force and condition many of the decisions of many companies," he said. "But I believe the most relevant thing is that these companies, if Catalonia becomes independent, will continue to have the Catalan market as one of their main (markets) and they will have to return to Catalonia."
Catalan secessionists are working towards a unilateral declaration of independence from Spain that could be adopted next week in defiance of a court order and increased economic pressure from Madrid.