Mo the dog's huge tongue wins world record
Comments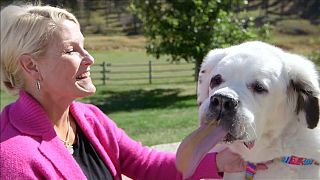 It's not difficult to see which feature makes Mochi 'Mo' Rickert the dog stand out from the crowd; her lolling tongue is something to behold.
The St Bernard from Sioux Falls, South Dakota, has now won an accolade for her longer-than-average organ, being officially dubbed the "dog with the world's longest tongue".
Guinness World Records judges confirmed that eight-year-old had won the title with her whopping 18.58 cm body part.
The Previous title holder, a Pekingese named Puggy, paled in comparison with a tongue measuring just 11.43 cm.