Spanish police 'forced out' of Catalonia by protesters
Comments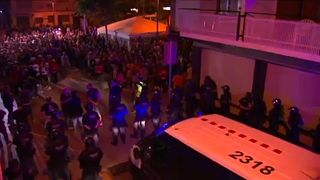 Spanish National Police officers, who had been staying in a hotel in the Catalan town of Pineda de Mar, were met with protesters on Tuesday morning (October 3) holding Catalan 'Estelada' flags and demanding them to leave, days after a violence-marred referendum on independence.
Local media also reported that Spanish police officers staying in a hotel in Calella, another Catalan beach town north-east of Barcelona, were told to leave by the manager after complaints made by its neighbours.
Catalan regional officials said hundreds were injured in a Spanish police crackdown on the independence referendum, declared unconstitutional by Madrid.