Bali volcano evacuees prepare for eruption
Comments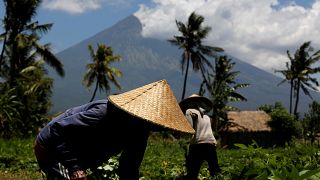 More than 130,000 people on the Indonesian island of Bali are now in makeshift evacuation centres as they brace themselves for the eruption of Mount Agung.
The alert status has been raised to the highest level as the volcano spews out white smoke and causes tremors throughout the area.
But officials are struggling to stop some people from returning to their homes within the 12 kilometre evacuation zone.
Local resident, Mulya, is determined to stay: "If we move to a shelter, I'm afraid it would be difficult for my family to adapt," he said.
"That's why we don't want to go. It's better to stay at home. At least so far, I still feel safe. Should there be an eruption, the government would let us know."
However, officials on the island now say tens of thousands of people from safe zones have also left their homes, fearing the eruption. They are being asked to return home as they put additional pressures on the evacuation facilities.
More than a thousand people died in 1963 when Mount Agung last erupted.