UN chief Guterres says Rohingya crisis is "human rights nightmare"
Comments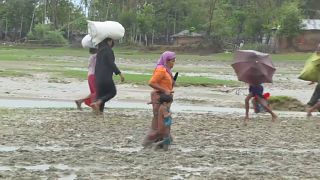 United Nations Secretary-General Antonio Guterres has said the plight of Myanmar's Rohingya Muslims has become the "world's fastest developing refugee emergency, a humanitarian and human rights nightmare".
Speaking at the UN Security Council's first public meeting on Myanmar in eight years, he also warned that the violence against Rohingyas in the northern part of Rakhine could spread to central Rakhine.
An army offensive has sent more than 500,000 people fleeing to Bangladesh.
"There seems to be a deeply disturbing pattern to the violence and the ensuing large movements of an ethnic group from their homes," Guterres said on Thursday.
"It's imperative that UN agencies and our non-governmental partners be granted immediate and safe access to all affected communities. The situation has spiralled into the world's fastest developing refugee emergency and a humanitarian and human rights nightmare".
Live the story of a mother & her two kids forced to flee violence in Myanmar because they're #Rohingya. https://t.co/n2JvqhGaDI@ContrastVRpic.twitter.com/7s6aZdC9dC

— AmnestyInternational (@amnesty) 28 septembre 2017
US Ambassador to the United Nations Nikki Haley called on countries to suspend providing weapons to Myanmar over violence against Rohingya Muslims until the military puts sufficient accountability measures in place.
It was the first time the United States has called for punishment of military leaders behind the repression, but stopped short of threatening to reimpose US sanctions which were suspended under the Obama administration.
Myanmar national security adviser Thaung Tun told the United Nations that there was no ethnic cleansing or genocide happening in Myanmar. He said that Myanmar had invited Guterres to visit.
Meanwhile, more than 60 Rohingya Muslim refugees from Myanmar are believed to have drowned when their boat capsized off the coast in bad weather. Several children were said to be among the victims.
"The boat capsized and it was not far from the shore but it was far enough and was still deep" https://t.co/2OVkCy4olz

— IOM (@UNmigration) 28 septembre 2017
with Reuters