Six charts on how Catalonia compares to the whole of Spain
Comments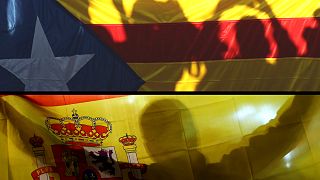 Catalonia's independence referendum, planned for Sunday, October 1, will raise questions over what is at stake economically for the region if it is granted autonomy from Spain.
With its own language and cultural identity, Catalonia also has a different economic profile from the rest of Spain. It's the country's richest region.
Economic grievances are said to be one of the main motivations behind the independence movement. Many Catalan nationalists believe Catalonia is being dragged down economically by other regions, fueling their desire for independence.
But what do the statistics say about Catalonia's development compared to the rest of Spain? These six charts, based on data from Eurostat, show how the region compares to the country's average in terms of life expectancy, employment, GDP, business, agriculture and research and development.
The charts use data from Catalonia versus the average from the whole of Spain. A previous version of this article contained a misleading comparison on tourism.