Game of Thrones actors Rose Leslie and Kit Harington engaged
Comments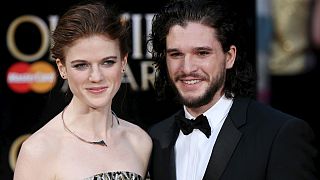 After meeting on the set two of the cult TV show Game of Thrones, two of the cast are to wed.
Rose Leslie and Kit Harington, both 30, met 2012 when their characters, Jon Snow and Ygritte, had an onscreen romance.
Leslie's character was written out of the show in its fourth season.
The pair made their relationship public at last year's Olivier Awards.
They announced their engagement yesterday (September 26) in British newspaper the Times.
The announcement read: "The engagement is announced between Kit, younger son of David and Deborah Harington of Worcestershire, and Rose, middle daughter of Sebastian and Candy Leslie of Aberdeenshire."
Harington recently opened up about how easy it was to fall in love with Leslie and cited shooting on location with her as his best memory from the show: "The three weeks in Iceland where we shot the second season… because the country is beautiful, the light of the North magic, and it was there that I fell in love."