Barcelona rallies ahead of independence vote
Comments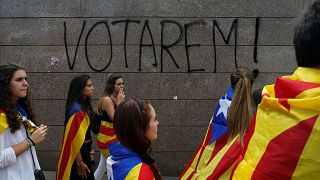 Thousands of striking university students march through the centre of Barcelona.
They are angry at what they see as an intensifying central government crackdown on Sunday's planned referendum on independence for Catalonia.
The march and strike was called by the main student union in the region.
00:31 Firefighters and students in the demo
Other civil society groups including hundreds of firefighters joined the rally in the centre of the catalan city.