Protests flare as far-right AfD wins seats in German parliament
Comments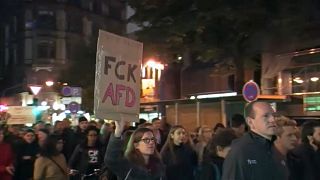 Hundreds of protesters gathered outside the election night headquarters of the AfD on Sunday, to voice their rage at the far-right German party entering parliament for the first time.
Demonstrators at Berlin's Alexanderplatz Square chanted slogans, labelling those inside the building 'Nazi pigs'. Bottles were thrown and there were scuffles with the police.
A number of arrests were made.
"Ganz #Berlin hasst die @AfD" / "The whole of Berlin hates the #AfD" #Alexanderplatz#GermanyDecidespic.twitter.com/E2CNN10sCF

— Kate Brady (@kbrady90) 24 septembre 2017
From Berlin tonight courtesy of my colleague Nadine Schmidt who is at the anti-AfD protests. #BTW17pic.twitter.com/xGvnqSEQTB

— James Masters (@Masters_JamesD) 24 septembre 2017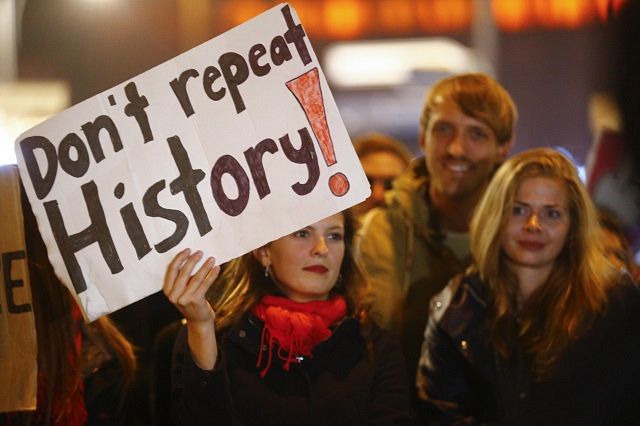 Berlin, REUTERS/Hannibal Hanschke
And it wasn't just in Berlin that anger flared.
There were protests, too, in Frankfurt and Cologne, with those marching reflecting outrage at the hardline stance of the AfD whose leaders have said Islam has no place in the country and that Germans should take pride in what their soldiers achieved during the Second World War.
Amid the protests, France's far-right National Front leader Marine Le Pen congratulated the AfD, saying its breakthrough result was a sign that the people of Europe are waking up.
Bravo à nos alliés de l'#AfD pour ce score historique ! C'est un nouveau symbole du réveil des peuples européens. MLP #BTW2017

— Marine Le Pen (@MLP_officiel) 24 septembre 2017
with Reuters