McCain defies Trump again on healthcare reform
Comments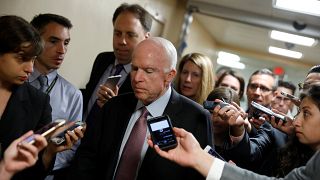 Two months after John McCain's 'no' vote doomed efforts by his fellow Republicans to dismantle Obamacare, the Arizona Senator says he opposes his party's latest health reform plan.
With a tight timetable and a narrow Senate majority, Republicans can't afford to lose votes.
At a rally in Alabama on Friday, President Donald Trump said McCain's decision was "totally unexpected, terrible."
Despite the setback, Trump said: "We still have a chance. We're going to do it eventually."
McCain who is battling brain cancer, insists he can't support the bill without knowing how much it would cost, how it would affect insurance premiums and "how many people will be helped or hurt by it".
I cannot in good conscience vote for Graham-Cassidy. A bill impacting so many lives deserves a bipartisan approach. https://t.co/2sDjhw6Erapic.twitter.com/30OWezQpLg

— John McCain (@SenJohnMcCain) 22 septembre 2017
Former Democratic President Barack Obama's signature domestic achievement brought health insurance to millions of Americans.
More than 30 million would lose it under the new plan by 2027, according to some experts.
with Reuters