Alarm grows over Kurdish independence referendum in Iraq
Comments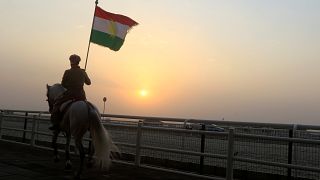 As Iraqi Kurds look forward to their upcoming independence referendum, the international community is sounding the alarm.
The UN Security Council expressed concern on Thursday over what it says is "the potentially destabilising impact" of next Monday's vote.
And Turkish President Recep Tayyip Erdogan said his country is considering imposing sanctions against Kurdish northern Iraq.
"Without any further delay, we are going to discuss in detail what kind of sanctions should be imposed," Erdogan said in an interview with Reuters while he was in New York for the annual United Nations General Assembly.
"It is not right for me to unveil them right now but at National Security Council and cabinet meetings we will discuss when these sanctions will be imposed and what the road map will be."
Iraq's neighbours including Turkey fear the vote will fuel unrest among their own Kurdish populations and Western allies said it could detract from the fight against so-called Islamic State.
Turkey, Iran and Iraq have all agreed to consider counter-measures against Kurdish northern Iraq over the planned independence referendum, according to Turkey's foreign ministry.
Turkey, Iraq, Iran agree on "joint precautionary measures" over Kurdish referendum https://t.co/2zj5g7M2Hapic.twitter.com/6a81IWyzRs

— China Xinhua News (@XHNews) 21 septembre 2017
with Reuters