Rescue efforts underway after second deadly Mexico earthquake
Comments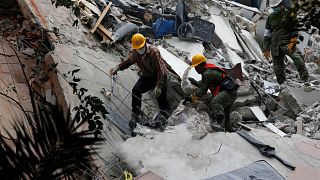 Wednesday dawned a grey day and with it a sombre mood as rescue efforts took place in Mexico.
At least 22 schoolchildren are among some 225 who have died in the country's most lethal earthquake in a generation.
Survivors have been rescued from the rubble, but fears remain for those trapped beneath hundreds of collapsed buildings.
Dozens more youngsters are feared buried under the Enrique Rebsamen school in the capital city. It enrols students from the ages of three to 14.
President Enrique Peña Nieto visited the site of the collapsed school as dozens of volunteers and emergency service personnel dug through the debris, some using just their bare hands.
The magnitude 7.1 quake rocked Puebla State, just over a hundred kilometres from Mexico City, on Tuesday afternoon. It came exactly 32 years to the day since thousands were killed in another devastating quake in the capital. Earlier this month, an 8.1 magnitude tremor killed at least 90 people in the south of the country.
Tents and aid centres have been set out to distribute food, water and other supplies to those in need.