Protests in Barcelona after police raid Catalan government buildings
Comments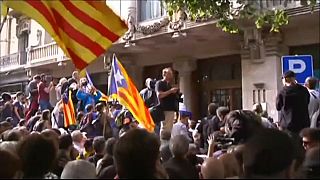 Protests were sparked after Spanish police raided several offices of the Catalan government in Barcelona on Wednesday (September 20) morning.
Josep Maria Jove, Catalonia's junior economy minister, and a dozen high-ranking officials have been arrested, according to reports.
Spain's Guarda Civil barged into Catalan governmental headquarters of the economy, interior, foreign affairs, welfare, telecommunications and tax, searching for documents linked to the banned independence referendum, which is set to take place on October 1st.
Madrid considers the vote to be illegal but the pro-independence movement plans to hold the referendum regardless.
The police raids prompted thousands of protesters onto the streets of Barcelona, many gathering outside the regional government's economy ministry in the centre of the tourist district, chanting "They will not pass" and "We will vote", a Reuters witness said.
Catalan President, Carles Puigdemont complained of a power grab. "Spain has enacted a "de facto" suspension of Catalonia's autonomy and has "de facto" applied the state of emergency. The freedom is being suspended and repressed," he said.
However, Spanish Prime Minister Mariano Rajoy said the state had been forced to act. "We are acting according to our duties and we'll keep doing that until the end… this is a police operation ordered by the judge and any democrat, I don't know if you are one, but we have to obey what is decided by one of the three powers of the State."
The raids come after police seized a box of election material on Tuesday (September 19).
Guarda Civil's operation is sparking strong reactions from pro-independence protesters.
Jordi Sanchez, president of the Catalan National Assembly had earlier invited people to demonstrate on the streets.
Ha arribat el moment. Resistim pacíficament. Sortim a defensar des de la no-violència les nostres institucions. Rbla. Catalunya-Gran Via.

— Jordi Sànchez (@jordisanchezp) 20 septembre 2017
Cada cop hi ha més gent davant Dep. Economia de Rbla Catalunya. Trànsit de baixada tallat ara mateix. Crits de fora les forces d'ocupació. pic.twitter.com/cW33Q0uBlH

— Martí Estruch (@MartiEstruch) 20 septembre 2017