'Very big steps' needed for North Korea solution, warns ex US defence chief
Comments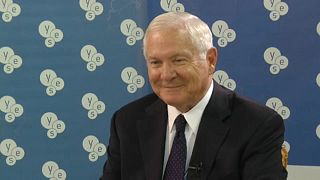 As North Korea causes global alarm with its missile and nuclear tests, former US defence secretary Robert Gates has told Euronews that "very big steps" have to be made – if a political solution is to be reached.
The ex-CIA director has also warned of the possible repercussions of military action.
Meanwhile, on Russia, Gates says the approach Putin is taking to the West "does not serve Russia's long term interests."
Sasha Vakulina, Euronews: "Let me start with asking you about the recent escalation of the North Korea crisis. Following the latest missile launch, North Korea said 'our final goal is to establish the equilibrium of real force with the US.' How dangerous is this ambition?"
Robert Gates: "I think it's actually quite dangerous. Clearly 30 years of diplomacy have failed to stop North Korea in its pursuit of nuclear weapons and the means to deliver them.
"I think one option that the United States has before it is to put on the table a significant package of diplomatic proposals coupled with a statement of the military actions we would take if there is no political solution to the problem.
"So, a political solution involves perhaps recognition, lifting sanctions, signing a peace treaty. These are all very big steps that have to be done in coordination with South Korea, with Japan. And in exchange for that, either dramatically curtailing the North programmes or eliminating them.
"But the other side of that is if they don't accept what would be a very forthcoming approach would be in essence to say we will take a number of military steps in Asia. That will make both North Korea and China uncomfortable in terms of anti-missile systems, additional naval forces. A range of military actions we could take will make China uncomfortable as well as North Korea."
Euronews: "Where is Russia in this combination?"
Robert Gates: "Well as it's often the case, Russia is not being very helpful. I think that this is a situation when, unlike China, Russia is perfectly content to see the US preoccupied with this problem in North Korea and to exploit it in Asia and wherever else they can."
Euronews: "Do you see Russia's influence in the world growing recently?"
Robert Gates: "I think that one of Putin's primary objectives for the last ten years or more has been to restore Russia's role as a great power whose interests have to be taken into account in any international situation.
"I think there are limits to Russia's influence because in a way I think he is falling into the Soviet trap of pursuing an aggressive global form policy, military modernisation that the Russian economy cannot sustain over the long term."
Euronews: "Russia and Belarus have launched a large scale joint military exercise called Zapad 2017 – West. Do you think it's an aggressive move?"
Robert Gates: "They are clearly trying to send a signal to intimidate, but I think that the measures that NATO has taken, the movement of NATO forces into Poland and into the Baltic States, the US reinforcement of our military position in Europe.. I think they may want it to be intimidating but I don't think it is."
Euronews: "Do you think we might be heading towards a new style cold war?"
Robert Gates: "Well, I think to a certain extent we are already there. The question is how do you stop a downward spiral in relationship but at the same time deal with Putin's interventionism both political and military, as well as his general thuggery in the way he is behaving.
"I think the biggest challenge for Putin is that he has a declining population and declining economy. He needs to recognise that the kind of approach that Russia is taking to the West does not serve Russia's long term interests as a great power or interest of Russian people."
Euronews: "Do you think they (Russia) can actually realise it and reconsider their policy?"
Robert Gates: "Well, I suspect the odds are against as long as Vladimir Putin is president."