Indonesia's Muslims urge more support for Myanmar's Rohingyas
Comments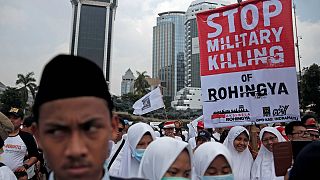 Thousands rallied in the Indonesian capital Jakarta on Saturday, in solidarity with the Rohingya Muslims fleeing what the United Nations has branded "ethnic cleansing" in Myanmar.
Indonesia has the world's largest Muslim population, and its leaders are under pressure to do more to help the Rohingyas persecuted in mainly Buddhist Myanmar.
Waving Indonesian flags and holding up placards, people clad in white vowed to stand by their "Muslim brothers and sisters in Myanmar" in a rock-concert style event at Jakarta's landmark, National Monument.
The demonstration was also attended by the leaders of various religious communities, including Christians and Buddhists.
Protesters held banners reading "Stop the genocide of Rohingya" and "Stop crimes against humanity."
"We encourage the Indonesian government to provide more assistance to the Rohingya Muslims who are currently in refugee camps. They still need a lot of help from Muslims in Indonesia," said demonstrator Ayub Bahruddin.
Yusma Niar, another protester, suggested the Indonesian government could send troops and equipment to the Muslim fighters who want to go to Myanmar to help the Rohingyas.
The Indonesian government sent four aircraft containing humanitarian aid to Rohingya Muslims last week.
Protesters in #Jakarta hold up various signs of their demands for the #Rohingyapic.twitter.com/iAOL3w1szI

— Chandni Vatvani (@ChandniCNA) September 16, 2017
Villages torched
Since last month, nearly 400,000 Rohingya Muslims have fled to Bangladesh following a military crackdown in Myanmar's Rakhine state.
Myanmar authorities reject the accusations of ethnic cleansing and say they're targeting insurgents in response to attacks against police and paramilitary posts.
But NGOs say Muslims civilians are suffering a campaign of violence and arson aimed at driving them out of the country, where they are regarded as illegal migrants.
More than 430 people have been killed, most of them insurgents, and about 30,000 non-Muslim villagers have been displaced, Myanmar has said.
Human Rights Watch said satellite imagery showed 62 Rohingya villages had been torched.
U.N. Secretary-General Antonio Guterres and the U.N. Security Council have urged Myanmar to end the violence, which Guterres said could best be described as ethnic cleansing.
Myanmar under pressure
Meanwhile, Bangladesh accused Myanmar of repeatedly violating its airspace and warned that any more "provocative acts" could have "unwarranted consequences", raising the risk of a deterioration in relations already strained by the Rohingya refugee crisis.
Bangladesh said Myanmar drones and helicopters had violated its airspace three times – on Sept. 10, 12 and 14 – and that it had called in a top Myanmar embassy official in Dhaka to complain.
A Myanmar government spokesman said he did not have information about the incidents Bangladesh had complained about, but Myanmar had denied an earlier accusation.
"Our two countries are facing the refugee crisis. We need to collaborate with good understanding," he told Reuters.
Bangladesh has said all refugees must go home. Myanmar has said it will take back those who can verify their citizenship, but most Rohingyas are stateless.
The conflict has led to a humanitarian crisis on both sides of the border and raised questions about Myanmar's path under the leadership of Nobel laureate Aung San Suu Kyi after nearly 50 years of strict military rule.
The generals still control national security policy but Suu Kyi has been widely criticised abroad for not stopping or condemning the violence.