Trump joins Congress condemnation of Charlottesville rally violence
Comments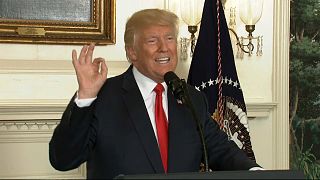 Donald Trump has signed a US Congress resolution opposing "hatred, racism and bigotry" in all forms after violence at a white supremacist rally in Charlottesville last month.
However the US president has also made it clear he stands by his comments that both sides were to blame for the clashes.
Trump was fiercely criticised for not initially condemning white supremacists who organised the march, with many of his fellow Republican expressing dismay.
Speaking on-board Air Force One on Thursday, a day after meeting South Carolina Republican Senator Tim Scott, who is African-American, Trump defended his remarks.
He said anti-fascist groups, known as antifa, contain some "pretty bad dudes."
Glad Congress unanimously condemns white supremacist violence in Charlottesville & urges the President to do the same. No hate in my state! https://t.co/0M3jnM56tW

— Senator Tim Kaine (@timkaine) September 13, 2017
Fighting broke out last month in Berkeley, California when a small group of masked antifa and left-wing protestors attacked
right-wing demonstrators.
Glad Congress unanimously condemns white supremacist violence in Charlottesville & urges the President to do the same. No hate in my state! https://t.co/0M3jnM56tW

— Senator Tim Kaine (@timkaine) September 13, 2017