Angela Merkel opens Frankfurt Motor Show
Comments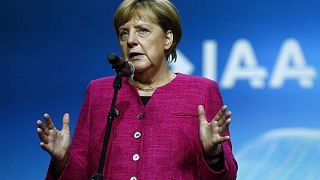 German Chancellor Angela Merkel has called for action to be taken to repair the reputation of the country's car industry.
Scandal and crisis have marred the auto sector since Volkswagen admitted to cheating US diesel emissions tests two years ago.
Merkel made the statement in front of top car executives as she officially opened the Frankfurt Motor Show, where this year's focus is on phasing out diesel cars in favour of electric or hybrid models.
She said car makers needed to consider pollution when designing and creating new models. She added that China was seriously thinking about putting an end to diesel engines and German exporters should be aware of that.
Merkel noted that news of the emissions scandal broke shortly after she opened the same show, two years ago.
In the meantime, VW, BMW, Daimler, Audi and Porsche have all come under investigation for alleged anti-competitive collusion.