Rights group: Turkey newspaper trial a 'mockery of justice'
Comments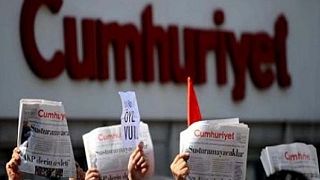 The trial of 17 staffers of Turkey's main opposition newspaper, accused of resumed on Monday outside Istanbul.
Christophe Deloire, the secretary general of media advocacy group Reporters Without Borders, called the case against the pro-secular Cumhuriyet newspaper "a mockery of justice."
"(Turkish President Recep Tayyip) Erdogan succeeded in suppressing pluralism and free press in this country. There are only a few remaining free media and we have to defend them," Deloire told The Associated Press outside Silivri prison, on the outskirts of Istanbul, where five Cumhuriyet employees are being held in pre-trial detention.
Among the jailed are editor-in-chief Murat Sabuncu and columnist Kadri Gursel as well as investigative journalist Ahmet Sik.
Prosecutors have charged the paper's employees with allegedly "sponsoring terror organisations," including Kurdish militants, a far-left group and the network of U.S.-based cleric Fethullah Gulen, whom the government blames for a failed coup last year. Gulen denies any involvement.
Turkey's state-run Anadolu news agency said the defendants faced various charges with jail sentences ranging from seven to 43 years in prison.
The government insists that none of them are in prison for their journalistic work and that they are behind bars for various crimes, including terrorism.
Trial of Turkey opposition newspaper staff resumes https://t.co/6FHNOE8QFJ via YahooNews</a></p>— Matthias Bjørnlund (MatthiasBj) September 11, 2017
"We want justice"
Since the bloody failed coup of July 15, 2016, Turkish authorities have jailed more than 50,000 people over alleged links to Gulen and other terror groups.
Critics say the crackdown has been used as a pretext to quash opposition voices, including journalists, activists and parliamentarians who have been put behind bars.
Cumhuriyet employees and supporters gathered Monday outside Silivri prison's courthouse, holding the paper's edition with the headline "We want justice."
"It is journalism, freedom of thought and expression that are on trial," the newspaper's Ankara representative Erdem Gul told the AP.
Seven Cumhuriyet staff members, including cartoonist Musa Kart, were released after the first hearing in July. Two people are being tried in absentia.
Also on trial and in prison is Kemal Aydogdu, who is not related to the newspaper but is suspected of using a Twitter handle critical of the government. He is accused of being a "manager" in a terror group, according to Anadolu.
#Turkey ranks 155 out of 180 in our latest #PressFreedom#RSFIndex. #Azerbaijan ranks 162. #HDIM2017

—

RSF

(@RSF_inter) September 11, 2017