Maduro ready 'to be a dictator' to help Venezuela
Comments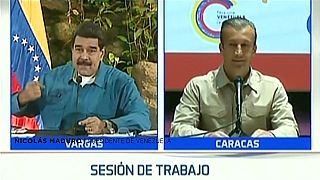 Venezuela continues to reel under a political and economic crisis but controversial president Nicholas Maduro shows no sign of changing course.
The United Nations has criticized Maduro's handling of anti-government protests and US President Trump has approved heavy sanctions against the country – labeling Maduro "a dictator" for his handling of the last election.
Maduro says he's willing to be a dictator if it will help turn the country around.
By hook or by crook, I want to do it the good way, but if I have to do it by crook and turn into a dictator to guarantee prices for the people, I`ll do it by crook," Maduro said on Friday (September 8). "Now you know and you know that I don`t speak for the sake of talking."
Spiraling costs and food shortages continue to plague the country, despite the its vast natural resources.
Venezuela has some of the largest proven oil reserves in the world but falling oil prices, mismanagement and sanctions have depleted the OPEC nation's currency reserves and pushed the economy to the brink of collapse.