Resident cats die in Hermitage fire
Comments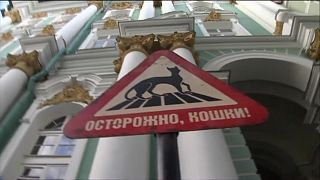 A fire at St Petersburg's Hermitage museum has harmed one of its oldest collections – its resident cats.
The Russian state museum was evacuated when a fire broke out around midday on Friday (September 8). No one was hurt but several cats who live in the basement were killed.
The cats first took up residence in the Hermitage in 1775, when it was still a royal palace. Empress Elizabeth introduced them to help catch mice.
Today about 50 cats live in the museum. They have a press secretary, three caretakers, their own kitchen and even a small hospital.