UN Syrian Commission of Inquiry scathing about conduct of conflict by all sides
Comments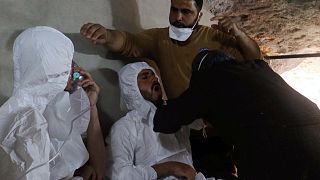 The latest report from the UN Commission of inquiry on Syria, covering the period from March until July 2017, says that while there has been some progress in localised de-escalation of violence, "the parties to the conflict continue to perpetrate unthinkable crimes against civilians in and away from the battlefield in blatant violation of international law."
"We gathered extensive evidence including 43 interviews with victims, eyewitnesses, first responders, medical staff and persons who visited the site as well as photos of remnants and satellite imagery. On the basis of this information we concluded that the chemical attack was carried out by a Syrian SU-22 aircraft which dropped three conventional bombs and a sarin bomb in Khan Sheikhoun," said Commission Chairman Paulo Pinheiro.
The crimes include the forced displacement of people, deliberate attacks on civilians, and the use of chemical weapons including sarin and chlorine gas.
The Syrian government is accused of bombing medical facilities, while US airstrikes "failed to take all feasible precautions to protect civilians" when attacking terrorists, the report adds.