Fashion giants ban underweight models
Comments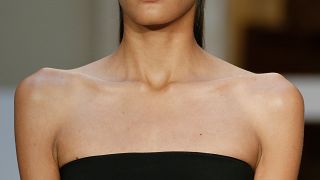 Two major French fashion companies have unveiled a new global charter banning underweight and underage models from representing their brands.
Between them, holding companies Kering and LVMH Moët Hennessy Louis Vuitton own dozens of high-end labels, including Gucci, Christian Dior, Alexander McQueen and Marc Jacobs.
"The brands will require casting agencies to present female and male models who are, respectively, size 34 or over and 44 or over," the companies announced in a joint statement.
French size 34 is equivalent to UK size 6 and US size 2.
This is a big deal because between them kering</a> and <a href="https://twitter.com/LVMH">lvmh own or control many of the global brands with the most-watched shows

— Vanessa Friedman (@VVFriedman) September 6, 2017
The charter also stipulates that "brands must not hire models under the age of 16 to participate in shows and shootings representing an adult."
Models will have to present a medical certificate showing they are fit to work and a psychologist will be present while they are working.
The move follows ongoing criticism that the fashion industry promotes eating disorders and poor body image.
In 2015, France passed a law banning underweight models from working in the country.