EU's top court dismisses Hungary and Slovakia case against refugee quotas
Comments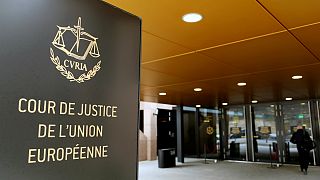 The EU's top court dismissed complaints by Hungary and Slovakia about EU migration policy on Wednesday, upholding Brussels' right to force member countries to host asylum seekers.
The Luxembourg-based European Court of Justice (ECJ) ruled that member states must take in a share of refugees as part of a plan agreed two years ago.
Slovakia, Hungary, the Czech Republic and Romania had all opposed the quota system but the EU pushed it through with a majority vote in September 2015.
"The mechanism actually contributes to enabling Greece and Italy to deal with the impact of the 2015 migration crisis and is proportionate," the court said in a statement.
Hungary's Foreign Minister Peter Szijjarto called the court ruling "appalling and irresponsible".
"This decision jeopardises the security and future of all of Europe… Politics has raped European law and values."
Hungarian Prime Minister Viktor Orban has called migration the "Trojan Horse of terrorism."
The dispute began in 2015 when over a million migrants arrived in Europe. The quota system was drawn up by the European Commission to ease the pressure on Greece and Italy, despite opposition from formerly Communist Eastern European countries, which said their societies could not absorb mainly Muslim migrants.
Hungary and Poland have refused to host a single refugee under the scheme, while Slovakia and the Czech Republic have each taken in only a dozen or so.
Fact check: How many refugees has each EU country taken in?

Read more —> https://t.co/mz6UjzsxYnpic.twitter.com/HTvSYGTccO

— Chris Harris (@lyonanglais) September 6, 2017
Threats of fines
The ECJ's press office told AFP there is "no onward appeal for Hungary and Slovakia" when asked about Szijjarto's vow that Budapest will use "all legal means" to fight the scheme.
Meanwhile, the European Commission said it was ready to institute court proceedings within weeks that could lead to fines for Poland, Hungary and the Czech Republic if they refuse to take in asylum-seekers from Italy and Greece.
"If the member states that have not relocated at all or not for a long time do not change their approach in the coming weeks, we should then consider to take the last step in the infringement procedure, taking Poland, Hungary and the Czech Republic to the European Court of Justice," Migration Commissioner Dimitris Avramopoulos told reporters.
Slovakia is not included in the legal action as it recently agreed to host a few refugees.
The ECJ has the power to levy financial penalties on governments which fail to comply with EU law.
The Commission's chief spokesman, however, denied a report that the executive would propose a new round of 40,000 relocations.
Germany, which took in the bulk of the migrants and refugees who landed in Greece over the past two years, said it expected the formerly communist states to now fall in line and accept the ruling.
"We can expect all European partners to stick to the ruling and implement the agreements without delay," German Foreign Minister Sigmar Gabriel said in a statement.
ECJ confirms relocation scheme valid. Time to work in unity and implement solidarity in full. #migrationEU

— DimitrisAvramopoulos (@Avramopoulos) September 6, 2017
Today's ECJ ruling on relocation of asylum seekers is clear: every EU state must honor their commitments and respect the rule of law

— EP President Tajani (@EP_President) September 6, 2017
"The quota system does not work"
EU law states that people arriving in the bloc should claim asylum in the first member state they enter, but that rule was exposed as unworkable when hundreds of thousands arrived in Greece and Italy.
The Commission's plan provided for the relocation of up to 120,000 people from Greece and Italy, but less than 30,000 have so far been moved, partly through difficulties in identifying suitable candidates.
"The quota system does not work, so the court decision is, perhaps, irrelevant at the moment," Slovakia's Economy Minister Peter Ziga told reporters.
He said a new mechanism was needed though the problem was not as grave as arrivals had declined: "I think the European Commission will find a way to solve this problem."
The EU has taken in more than 1.7 million people from the Middle East and Africa since 2014.
But, after a mass influx in 2015, numbers have gone down steadily following actions last year that all but closed the route from Turkey to Greece and from Greece to the Balkans and northern Europe. The EU has also increased support for Libya to curb arrivals in Italy.
Refugees face desperate journeys to reach loved ones in Europe.
Our new report: https://t.co/SHtQgeDwiVpic.twitter.com/YGWOalm1JL

— UN Refugee Agency (@Refugees) September 6, 2017