Fact check: How many refugees has each EU country taken in?
Comments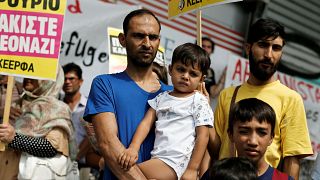 Two years ago, EU chief Jean Claude-Juncker made an impassioned plea for Europe to take in their share of refugees.
He urged member countries to show solidarity with the likes of Greece, Italy and Hungary by taking 160,000 refugees off their hands.
EU states were given until September 26 2017 to comply.
But latest figures show just 29,000 refugees have so far been relocated, with several countries refusing to take part altogether.
What did Juncker say in September 2015?
"We Europeans should remember well that Europe is a continent where nearly everyone has at one time been a refugee. Our common history is marked by millions of Europeans fleeing from religious or political persecution, from war, dictatorship, or oppression.
"Huguenots fleeing from France in the 17th century; Jews, Sinti, Roma and many others fleeing from Germany during the Nazi horror of the 1930s and 1940s; Spanish republicans fleeing to refugee camps in southern France at the end of the 1930s after their defeat in the Civil War; Hungarian revolutionaries fleeing to Austria after their uprising against communist rule was oppressed by Soviet tanks in 1956; Czech and Slovak citizens seeking exile in other European countries after the oppression of the Prague Spring in 1968 …
"We Europeans should know and should never forget why giving refuge and complying with the fundamental right to asylum is so important …
"So it is high time to act to manage the refugee crisis. There is no alternative to this …
"To me, it is clear that the Member States where most refugees first arrive – at the moment, these are Italy, Greece and Hungary – cannot be left alone to cope with this challenge.
"This is why the Commission already proposed an emergency mechanism in May, to relocate initially 40,000 people seeking international protection from Italy and Greece.
"And this is why today we are proposing a second emergency mechanism to relocate a further 120,000 from Italy, Greece and Hungary.
"This requires a strong effort in European solidarity. Before the summer, we did not receive the backing from Member States I had hoped for. But I see that the mood is turning. And I believe it is high time for this.
What happened
Two years on, less than a fifth of the original target, 160,000, have been relocated or resettled.
The pace of transfers has changed however. It's gone from just 4,500 in the first year, to more than 25,000 over the last 12 months.
The scheme was originally meant to see 54,000 refugees transferred out of Hungary, but Budapest refused to take part.
Poland has also said it wants nothing to do with the transfers.
The European Commission (EC) has started legal proceedings against the duo, as well as the Czech Republic, who've taken in just 12 refugees.
The reluctance has led to thousands of eligible refugees being left stranded in Italy and Greece, often in squalid conditions.
Brussels has called for relocation to be sped up, especially in Italy, where there is far more migrants arriving than in Greece, following the EU-Turkey deal.
The EC says more than 28,000 potentially eligible refugees have arrived in Italy and Eritrea since the start of 2016.
Brussels has acknowledged member states' reluctance to take part in the scheme by reducing its targets.
Initially it wanted 160,000 refugees to be shared out among EU countries. Then it was reduced to 98,000 before falling to 33,000 places in April 2017, with the EC citing a lack of people eligible to be transferred.
How many of the 160,000 each country took in
Click on the column headers to re-sort and explore the data to see how many of the 160,000 refugees your country has taken in.
What do the critics say?
Iverna McGowan, head of Amnesty International's EU office, told Euronews: "The response by the EU member states has been woefully inadequate and it's also been very misguided. Migrant policy over the last number of years has done away with evidence-based policies that have worked and been very cruel in the way it's left people already fleeing persecution and war literally out in the cold.
"We're deeply critical of Europe's response to what is a global refugee crisis. The numbers rising in Europe compared to the capacity and population of Europe was not in itself a crisis. But the political response was left lacking.
"The fact that we have more people on the move than at any point since the end of World War II and yet in the fact of that there has not been enough solidarity, leadership and, frankly, more strength."