Hurricane Irma bears down on Florida
Comments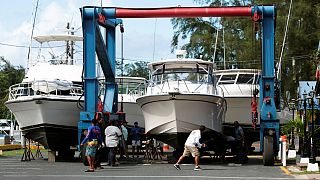 The southern United States is bracing itself for a second powerful storm to hit in as many weeks.
Warnings have gone out to islands in the Caribbean as Hurricane Irma, gathers strength. It has already been upgraded to a category four storm.
A Category four hurricane on the five-step Saffir-Simpson scale means sustained winds of 209-251 kph with "catastrophic" outcomes, including uprooted trees and downed power lines, water and electricity outages, and significant property damage causing uninhabitable conditions, according to the Miami-based hurricane centre.
BREAKING: Hurricane #Irma triggers new #hurricane warnings for the Leeward Islands, Puerto Rico and Virgin Islands: https://t.co/YfmytaEDSNpic.twitter.com/T5NDY9X6sv

— The Weather Channel (@weatherchannel) September 5, 2017
In its path are the West Indies, the Virgin Islands and Puerto Rico.
In preparation for the storm, the government of economically struggling Puerto Rico has declared a state of emergency and activated the National Guard.
Irma is due to hit Florida in a few days.
Spaghetti from EPS 12z is > 50% chance of dangerous Cat 4 or 5 Hurricane #Irma over or very near Florida this weekend. Not good. pic.twitter.com/gyVdS0XyQA

— Ryan Maue (@RyanMaue) September 4, 2017