Rohingya plight sparks international protests
Comments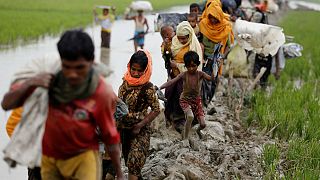 Nearly 90,000 Muslim Rohingya are said to have fled across Myanmar's border into neighbouring Bangladesh as the current violence shows now signs of easing.
Two blasts rocked the area on the Myanmar side on Monday followed by sounds of gunfire.
Doctors at a Bangladeshi hospital have reported numerous people turning up with bullet wounds.
Some refugees talk of being attacked indiscriminately by Myanmar soldiers.
"It happened in my own home. We were indoors and soldiers forced their way in and just shot at us," said one man.
Why should a people be forced to abandon home, #Myanmar stop ethnic cleansing. #rohingya#rohingyagenocide#rohingyamuslimspic.twitter.com/lWVshajjhF

— Save Rohingya (@rohingya24) September 4, 2017
The violence has triggered international anger and protests in several Muslim countries, including one in Chechnya. Posters in English read "stop the violence" and "world wake up" as more than 10,000 people attended a rally in Grozny.
The latest violence in Myanmar's northwestern Rakhine state began on Aug. 25, when Rohingya insurgents attacked dozens of police posts and an army base. The ensuing clashes and a military counter-offensive have killed at least 400 people and triggered the exodus of villagers to Bangladesh.
Myanmar says its fighting a legitimate campaign against Rohingya terrorists responsible for the attacks.
Myanmar is so busy killing Rohingya Muslims and burning their villages, it doesn't want UN feeding them in interim. https://t.co/s3QZhTNWDr

— Kenneth Roth (@KenRoth) September 4, 2017