Thousands evacuated in Frankfurt ahead of WWII bomb disposal
Comments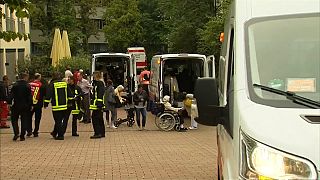 In Germany's biggest evacuation since the second World War, thousands of residents in Frankfurt were forced to leave their homes this weekend as the authorities prepare to dispose of a World War II-era bomb.
The fire service said it had evacuated two hospitals and was now helping about 500 elderly people leave residences and care homes.
Frankfurt police said they would ring every doorbell and use helicopters with heat-sensing cameras to make sure nobody is left behind before they start to diffuse the bomb.
Police have set up cordons around the evacuation area warning an uncontrolled explosion of the bomb could flatten a city block.
More than 2,000 tonnes of live bombs and munitions are found annually in Germany.