Merkel: Germany 'must react decisively' to detentions in Turkey
Comments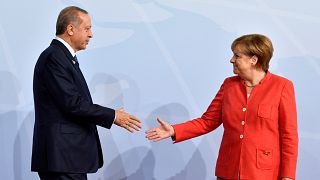 German Chancellor Angela Merkel said on Friday her government may rethink its ties with Turkey after two more German nationals were detained there on what it suspects are political charges.
In total, 12 German citizens are now jailed in Turkey, including two journalists and a human rights activist. Most are accused of involvement in last year's failed coup.
Under the circumstances, Merkel said she did not think it was appropriate to carry out further discussions with Ankara about its participation in a European Union customs union.
"We must react decisively," Merkel told a business event in the southern city of Nuremberg, noting that Germany had already fundamentally revamped its relations with Ankara.
"Given the last day's events, perhaps it is necessary to rethink them ever further."
Germany was not officially informed of the two new detentions, which took place at Antalya airport on Thursday, and its consulate in the coastal city of Izmir found out about them through "non-state sources", Foreign Ministry spokeswoman Maria Adebahr told reporters.
"We're trying to establish what they are charged with," said Adebahr said. "We must assume that it's a political charge, suspicion of terrorism, as with the others."
Many European citizens have been detained in Turkey over the past year. Rights groups have accused Turkey of using the 2016 failed coup to crack down on opposition.
Senior German politicians — including Social Democrat Martin Schulz, Merkel's main challenger in next month's election — are now calling on Berlin to issue a formal travel warning for Germans heading to Turkey.
That would be a big blow to the country, which already saw last year the number of foreign visitors drop to its lowest level in nine years. Germans accounted for about 10 percent of Turkey's tourists this year.