100,000 homes damaged by Hurricane Harvey
Comments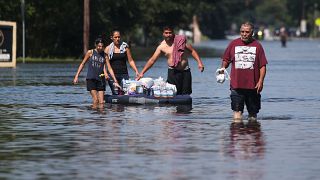 More than 100 000 homes have been damaged by the record rainfall dumped on Houston by Hurricane Harvey.
Soldiers and police in helicopters and high-water trucks rescued thousands of Texans stranded by floodwater from the hurricane on Thursday, which has killed dozens of people and displaced more than a million others as it drenches the Gulf Coast.
Some 779,000 Texans have been ordered to evacuate their homes and another 980,000 fled voluntarily amid concerns that swollen reservoirs and rivers could bring new flooding, according to Department of Homeland Security acting Secretary Elaine Duke.
Harvey roared ashore late Friday as the most powerful hurricane to hit Texas in a half-century. It has since been downgraded to a tropical depression as it heads inland, leaving devastation across the southeast corner of the state.
At least 38 people were dead or feared dead in six counties including and around Houston, according to local officials.
President Donald Trump will pledge $1 million of his own money to relief efforts for Hurricane Harvey, White House spokeswoman Sarah Sanders said on Thursday.
"I am happy to tell you that (Trump) would like to join in the efforts that a lot of the people that we have seen across this country do and he's pledging $1 million of personal money to the fund," Sanders said.
Chemical maker Arkema SA said it expected more fires after two explosions hit its flooded plant in Crosby, 25 miles (40 km) northeast of Houston.
ORANGECOUNTYEVACUATION
In Beaumont, Texas, about 80 miles (129 km) east of Houston, doctors and nurses evacuated some 190 people from a hospital that halted operations after the storm knocked out water service in the city of almost 120,000 people.
Orange County, which borders Beaumont, on Thursday ordered remaining residents to evacuate the area amid a forecast that the Neches River would crest on Friday, threatening homes.
Just east of Rose City, Texas, a line of cars and trucks were pushing through water flowing over the Interstate highway.
US vice-president Mike Pence visited Texas on Thursday, touring the coastal city of Rockport, where Harvey slammed ashore on to the mainland late Friday.
"The American people are with you. We are here today, we will be here tomorrow and we will be here every day until this city and this state and this region rebuild bigger and better than ever before," Pence said.
POWERSTILLOUT
Gasoline futures soared more than 13 percent on Thursday, as almost a quarter of U.S. refining capacity had been knocked offline by the storm, raising fears of fuel shortages.
About 189,000 homes and businesses remained without power.
Moody's Analytics estimated the economic cost from Harvey for southeastern Texas at $51 billion to $75 billion, ranking it among the costliest storms in American history.