Explosions, smoke at flood-hit chemical plant in Texas
Comments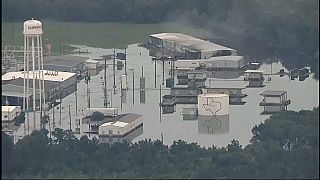 Two explosions rocked a flood-hit chemical plant in Crosby, Texas on Thursday, and the company running the site warned there was a risk of further blasts.
The plant, located about 40 km northeast of Houston, makes organic peroxides used in the production of plastic resins, polystyrene, paints and other products.
French chemicals group Arkema had evacuated remaining workers on Tuesday, and local authorities ordered the evacuation of residents within a 2.4-km radius of the plant.
"We want local residents to be aware that the product is stored in multiple locations on the site, and a threat of additional explosion remains," Arkema said in a statement.
"Please do not return to the area within the evacuation zone until local emergency response authorities announce it is safe to do so," it added.
The company had said on Wednesday it expected chemicals to catch fire or explode at the plant after it lost power to its chemical cooling systems.
A company official said then that the black smoke produced would irritate the skin, eyes and lungs, but a fire should not pose any "long-term harm or impact."
One sheriff's deputy was taken to hospital after inhaling the fumes.
Two explosions have gone off & #HCSO says a deputy has been taken to the hospital after inhaling fumes at Arkema Inc. Crosby Plant. #KHOU11pic.twitter.com/IlTvGcIMmM

— Janelle Bludau (@JanelleKHOU) August 31, 2017
MORE: Deputies near Arkema chemical plant in Crosby complained of headaches, dizziness after 2 reported explosions. https://t.co/fX5QV8OtArpic.twitter.com/iqtQvjr06O

—

KPRC

2 Houston (@KPRC2) August 31, 2017
Cooling systems compromised
The plant was swamped by about 1.8 metres of water due to flooding from Harvey, which came ashore in Texas last week as a powerful Category 4 hurricane.
It has been without electric service since Sunday and lost refrigeration when backup generators were flooded. Workers then transferred products from warehouses into diesel-powered refrigerated containers.
However, the company said some refrigeration of back-up containers was compromised because of high water levels, and the company was monitoring temperature levels remotely.