Iraqi forces face tough battle to clear out ISIL from Tal Afar
Comments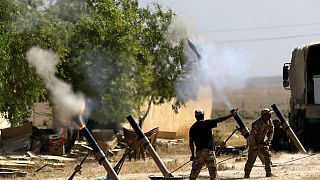 Hundreds of additional troops have been sent into al-Ayadiya to support Iraqi coalition forces who are facing fierce resistance from ISIL militants.
The fighting in the small town 11km north west of Tal Afar has been described by some Iraqi soldiers as " multiple time worse" than the battle for Mosul.
Peshmerga forces in the area say around 150 so-called Islamic State members and their families have surrendered themselves.
"In fact these displaced people who turn themselves in, they are not displaced people, they are all Islamic State members and they all wore explosive belts and these are the belts in front of you," claims Peshmerga Major Jamal Barwari.
While the ferocious fighting near the city of Tal Afar is going on in Iraq, in neighbouring Syria, bus-loads of militants and their families headed for IS-held Deir al-Zor have been deliberately blocked by US air strikes.
The convoy is part of a ceasefire agreed after offensives last week on the Syrian Lebanese border.
But the deal has been criticised by the US-led coalition and Iraq as the destination of the IS members is territory close to where Iraqi forces are engaged.