Experts to examine Trump's ban on transgender military personnel
Comments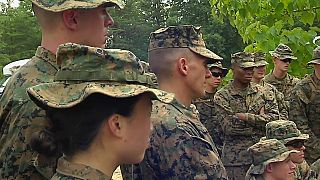 President Trump has signed a controversial memorandum banning transgender people in the US military, but his Defence Secretary says nothing will change just yet.
Jim Mattis says he is setting up a panel of experts to come up with recommendations on how Trump's directive, signed on Friday, can be implemented.
But he says until that review is completed by the end of February, current policy regarding transgender personnel will stay in place.
Trump also wants to stop the use of government funds for sex-reassignment surgeries for serving personnel.
The ban has been welcomed by some Trump supporters but condemned by LGBT and human rights groups, and created uncertainty for thousands of transgender service members.
Two lawsuits have been filed against the ban.