Watch: Intrepid alligators swim in back garden of flood-hit Texas home
Comments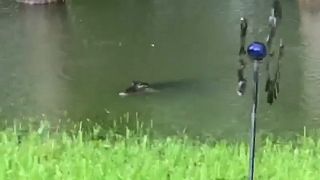 A woman living in Texas was shocked to find two alligators in her flooded back garden.
Arlene Gonzalez Kelsch filmed the reptiles swimming near her house after Hurricane Harvey unleashed record-breaking downpours.
She claimed they swam through a 'dent in the fence' caused by a storm last year.
The video was posted on Facebook and has reached over 79,000 views.
The slow-moving storm has brought catastrophic flooding to Texas, killed at least nine people and led to mass evacuations and paralysed Houston, the fourth most-populous US city.