Baghdad: At least 12 dead as car bomb rips through shiite market
Comments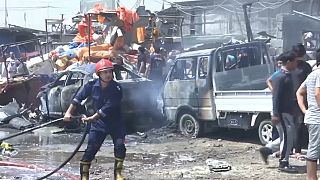 At least 12 people were killed when a car bomb ripped through a busy market area in eastern Baghdad on Monday morning.
The explosives-laden car went off at the wholesale Jamila market in Baghdad's Shiite district of Sadr City, according to police.
28 others were wounded in the explosion – authorities said the death toll was expected to rise further.
A plume of thick black smoke billowed from the area as people fled in panic.
Twisted metal and shards of glass littered the pavements, along with vegetables and other goods sold at the market.
"It was a thunderous explosion," said Hussein Kadhim, a 35-year old porter and father of three who was wounded in his right leg. "It sounds that the security situation is still uncontrollable and I'm afraid that such bombings will make a comeback."
The Islamic State group quickly claimed responsibility in an online statement according to Associated Press, although they could not verify the authenticity.